Côté Langues : optimise its Happy Easter Day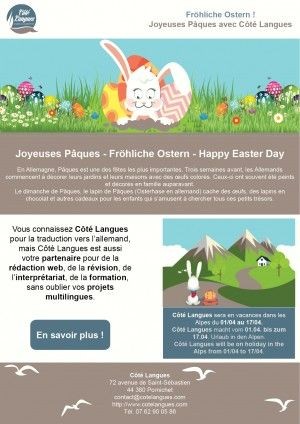 Customer
Côté Langues - Pornichet (44) http://cotelangues.com/
Project
Andrea called on Cookianime to realize a newsletter for Easter Day, wich is a very important celebration in Germany.
By registering on her wordpress site, we studied the integrated data pluggin of sending newsletters. As we could'nt import the "code" to optimize at best her newsletter, we suggested her passing through MailChimp, a free newsletters data if less than 2000 contacts.
Illustration
We created a MailChimp account for Côté Langues, published the campaign, illustrated the newsletter, and co-drafted texts.
Besides having realized a responsive newsletter, we increased opening and sharing odds, by visualising via a browser, downloading in PDF (illustration opposite), and thanks to the buttons of social networks.