Stéphanie Criaud : Created her business communication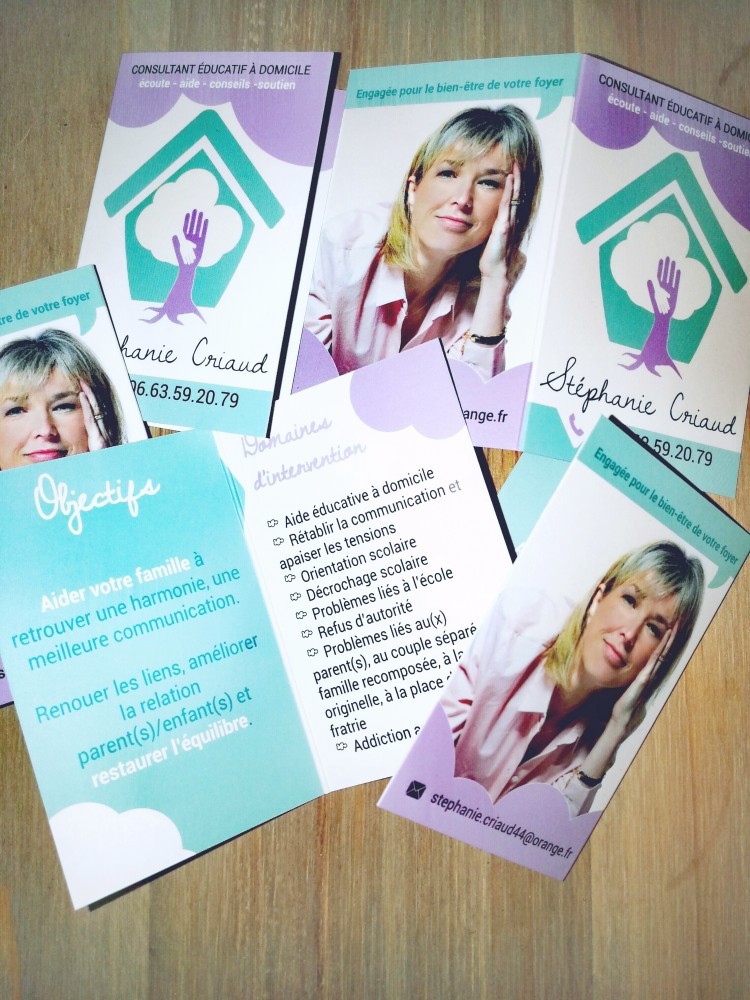 Customer
Stéphanie Criaud - Saint-Nazaire (44) https://fr.linkedin.com/in/stephanie-criaud-48013a125
Project
Stéphanie, has known us through word of mouth. Already installed for a while, she wished to increase her network through communication.
She wished to assert herself and give a more business side by creating a visual identity and communicate on her still too much unknown job (or at least very caricatured) thanks to a business card and a flyer.
Illustration
For the visual identity, we started from the present regarding the colors: it needed something sweet, as her image. The logo was reflected as follows :
a house: Stéphanie's workplace that moves to your home
a tree: for the symbolism of the seed of harmony which grows thanks to her (we also hid, in contra-form, the initials SC in the roots)
two hands: to show that the work within a home is done in collaboration (it's up to you to take a hand which is offered)
The symbolism of hands was moreover very important for Stéphanie.
As for the flyer, we deleted it for the benefit of a double folder business card, more compact and more useful (on an unknown business, we advise putting important information on the card to facilitate the memorization). Here is the technical information :
Size :

10,80 cm x 8,50 cm open - 5,4 cm x 8,50 cm closed (standard size)
Support : 350g

half-matte coated paper

Sides :

2
Laminating both sider :

Matte

Colors both sider :

Four-color process

Varnish both sider :

Matte acrylic or HUV

Selective varnish UV first side : Placed on the logo a highlight and on its catchphrase in the back

Scoring :

1 central scoring (2 folders)